48 comments Add a comment
I have a choice of two routes to work, a busy dual carriageway (usually gridlocked at various points, lots of minor accidents, very stressful drive) or a quieter country road through the villages and fields (quite relaxing, light traffic).
Owing to the county council placing badly timed traffic lights on the roundabout junction which leads onto the dual carriageway, most people choose to take the country route rather than sit in long queues of traffic waiting for the lights to change. Fine, there are a few more cars trundling along the country roads but nothing heavy and still no gridlocked stretches. However, the residents of the villages are not happy with people using 'their roads' as so called 'rat runs' and we drivers have been subjected to protests in the local papers, speed traps and 'this is your speed' warning devices.
But now the villagers have persuaded the council to put in "traffic calming measures". So picture this, the road into the village goes over a small hump backed bridge, barely wide enough for two vehicles to pass as it is. The traffic calming measure is an island of bricks which protrudes into the road so that people travelling into the village have to wait and give way to people coming out of the village.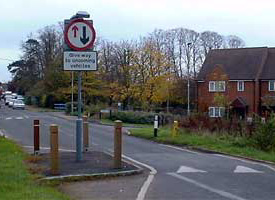 Now, there are two major problems with this. The "protrusion" is at the start of the hump, so whilst you wait behind it you can't see any cars coming over the hump and have to edge out to see if you actually have right of way, if you haven't you are so far out you either have to risk the wrath of the driver approaching and pullout anyway or reverse back, so annoying the people in the queue behind you who have followed you out assuming you can see over the hump.
Problem number two is that in the morning far more traffic is coming through and out of the village and the traffic trying to get into and through the village (to the dual carriageway) queues up. Thus, rather than "traffic calming" they are creating yet more queues and yet more infuriated drivers. OK, people decide to live in the country for peace and quiet and to avoid traffic but in this day and age cars are a way of life and the people will choose the quickest way to work whatever.
Leave a comment