61 comments Add a comment
Every week day morning I drive a journey of approximately 12 miles along a single carriageway. There are speed cameras on some stretches of this road; two sets in 30 mph built up zones, and a set in a 40 mph zone.
I'm fed up with people driving dangerously and attempting stupid overtaking manoeuvres on this stretch of road. The road has 30 mph signs, which appear at regular intervals along much of the route. Also, part of the road is very narrow and winding, enclosed by high hedges, sometimes necessitating vehicles travelling in one direction to stop to allow a large lorry or single-decker bus to pass. Incredibly, this stretch is a 40 mph limit, which to my mind is absolutely crazy.
I have had idiots in cars and idiots on bikes overtake me on this part of the road causing me to brake to let them back into their rightful lane lest they hit an oncoming vehicle.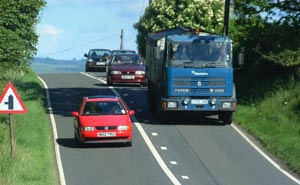 Note that by the time they get to the speed camera, their speed is under the limit anyway. It's just downright dangerous and stupid. In the 30 mph limits where there are signs but no speed cameras, but potentially there are school children crossing, cars, or people on horses emerging from tree-clad junctions, I still regularly have people overtake me. It's absolutely insane behaviour on the road and someone is going to get seriously hurt one day.
When I drive on this road, I keep to the limits and if you find yourself overtaking me in future you will have to put up with a blast from the very loud horn which I am about to have fitted. I really hope that it gives you a tremendous fright and makes you swerve off into a ditch, not hurting anyone else of course.
There, I feel better already!
By: Xercised
Leave a comment