58 comments Add a comment
Drivers that dither and do not know how to react on roundabouts. I am a car driver and a motorcyclist and I ride or drive approximately 100 miles each day to work, and then another 100 miles back again in the evening. This is quite some distance and I encounter lots of roundabouts on my route and see some quite spectacular and often very scary examples of driving.
They decide to change lanes to gain advantage...
The latest thing I've come across is vehicles sitting on my left waiting to enter the roundabout, and yet they're indicating right. Did they miss that sign back up the road or something - who knows? I usually either race off to get out of their way or sit back to let them pass in front and go around the roundabout - only to find out that they are going straight ahead anyway and not right as they were indicating! What's going on here? Have they indicated to allegedly tell people that they are NOT turning left, or are they halfway round the roundabout when they decide to change lanes to gain advantage over a slower vehicle in front? Either way it's very frustrating.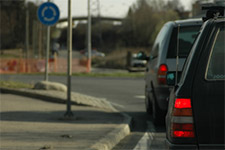 On most roundabouts these days there are lane markings, but the number of vehicles that feel the need to straddle the entire carriageway is frightening. Then there are the drivers that haven't a clue about lane discipline and hop from one lane to the next going round the roundabout and aren't entirely sure which one they want to be in. Now regarding lanes on roundabouts, most HGVs stick well to the left leaving sufficient room for cars to continue around them on the roundabout. But lots of cars wil not go round a roundabout beside a heavy goods vehicle, despite this. They hang back or they shoot through to get away from the lorry. Why do they do this?
My final gripe about roundabouts. In most town centres there is a bus depot and it is usually accessed via a roundabout. Quite often these buses entering the depot slow or stop on the roundabout, blocking or causing all other traffic to come to an unexpected halt. Why do they do this? Usually because one of their fellow bus drivers wants to enter the roundabout to leave the depot. This is deadly and I believe (although I couldn't say for sure) that it's illegal to stop on or give way on a roundabout. Surely they were designed to keep traffic flowing not hold everyone up on a whim?
By: Southboro
Leave a comment