794 comments Add a comment
OK, so in July I get caught speeding by a Gatso camera heading towards Wales 7.45pm Road clear, I'm doing 36 in a 30mph zone. With 18 years of endorsement free driving and no accidents and two weeks later I'm hit with a £60 speeding fine and 3 penalty points. That's ten quid for every one mile per hour I was over the speed limit on an empty road!
So today, I'm on my way to do an honest days work and I head into a village, no children at school as summer holidays, there are two blokes in suits standing next to a phone box and the next thing I know out comes Mr Policeman from behind the Phone Box wearing a florescent green jacket putting his hand in the air for me to stop and proceeds to charge me another £60 for doing 38 in the village. I found myself apologising at first, but then I started thinking whilst he was writing my ticket. I reminded him that he is supposed to be on view. His reply was "I'm wearing this bright coat." I couldn't believe my ears and I came back with "And I'm supposed to see through aluminium phone boxes, am I?"
He then said to me "We have had people in the village complaining about speeding drivers." Well that was about enough... I glared at him and said "We have people in Bicester complaining about their cars and bikes being stolen, it's a shame you don't put some effort into catching them!"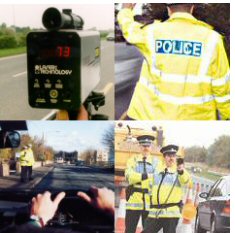 So there we have it, I pay my road Tax for both my vehicles and Pay my Council Tax which funds the Police and now they are robbing me on the way to work where funny enough I pay Income Tax for their salaries too. Yet there is Mr Joy Rider lying in his sack after another night racing another persons pride and joy and then torching it, not even worried about the licence he hasn't got, living on his dole money with the housing benefit looking after his roof.
OK, I appreciate I'm in the wrong for breaking the speed limit but what's gone wrong? Police gone soft, can't catch anybody if they are a car thief or a house burglar. Shame these days anything gets stolen from your property they'll give you an incident number and the thieving mongrel gets away again. Yet, being a law abiding citizen you get robbed £60 just for going slightly over the speed limit.
POLICE TRAFFIC COPS - TOO LAZY TO CATCH THE REAL CROOKS!
I think the Police in this country ought to be brought to justice as to why Police Officers time is wasted hanging around a speed camera, when in truth they reckon they have not got the man power to catch the thieves (apparently there were 5 police officers at the same camera not long after I was pulled over). Any private business would call that bad resource management, personally I think it is lets pick on the EASY TARGETS because WE ARE TO LAZY TO CATCH THE REAL CROOKS.
Question: Who are the real thieves, personally I think Thames Valley Police and probably all the other thieving Highway Police patrols/cameras up and down this country, money from taxes and speeding fines yet very little results when catching real crooks, we dare not mention their salaries too...
Leave a comment