41 comments Add a comment
One of our local government transportation engineer has created speed humps on all our back streets and introduced dozens of mini-roundabouts in places which are, quite frankly, dangerous. What about vehicle safety though?
These humps have damaged my car. They were presumably introduced to reduce speeds on side streets to lower than 30 (or 20 mph).
Quite honestly, if you drive more than 7 mph over the new bumps your car will come crashing down on the other side of the hump, smashing your front-end. Far from saving the pedestrian who might dash in front of you unawares, it frightens the living daylights out of whatever passengers you might be carrying at the time.
Mini-roundabouts: These stupid and dangerous. Whoever thought of putting a mini-roundabout on a main road with one blind junction to a very minor road wants their mind seeing to.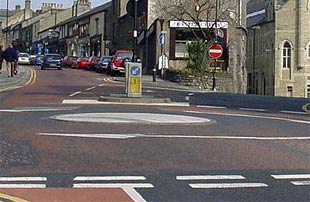 risking the life and limb ...
Cars emerge from this blind junction, unseen till they are actually on the roundabout. They emerge without stopping for what is effectively the main road, risking the life and limb of any car on the main road who thinks they might have right of way.
Mini-roundabouts have a totally ambiguous priority system. They are not, as the Highway Code might think, or have not the same priority system as a full roundabout. Two cars approaching a full roundabout from diametrically opposite direction both wanting to turn right can't actually see one another on a full roundabout usually. Both have equal right to enter the roundabout at the same time.
The mini-roundabout can't cope with this situation properly. There is insufficient space on the roundabout to accommodate two cars at the same time. Who therefore has the priority? It becomes a race to the roundabout to see who is first on the dotted line.
By: Griper
Leave a comment