15 comments Add a comment
I'd like to tell you about a speeding fine I have just received... by text message! Let me first fill you in on the background, just to be clear, my gripe is with the system as a whole not the fact that I got a speeding fine.
I have been driving for over six years and up until six months ago had a squeaky clean license. On my way to work there is a small uphill stretch where the road turns from single lane to two lanes. This road is one way only and on either side there are empty fields.
Anyway, I received a letter through the post telling me I had been caught speeding up this particular stretch. I was shocked to find that this road, which could be mistaken for a dual carriageway, was actually a 30mph zone and despite the fact I had not spotted the mobile speed trap, I admitted liability paid the £80 fine. My license was "returned and duly endorsed".
I had been caught speeding again on the same stretch of road
Some time passed and in July 2007 another letter pops through the door. I had been caught speeding again on the same stretch of road. I couldn't believe it this had happened again and more importantly I still hadn't seen a speed trap anywhere.
The letter did not contain any evidence of the offence and to be quite honest used some rather nasty scare tactics to put the recipient off challenging it. Again I signed the form and admitted liability - what else could I do?
Three months passed and I heard nothing. Then, out of the blue this pack arrives through the door summoning me to court. I sign the section indicating that I wished to plead guilty and sent it back with the next post.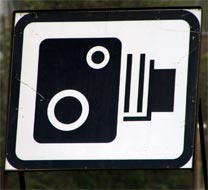 It is now only a couple of weeks until Christmas and I'm sitting at work when suddenly my phone beeps to let me know I have received a text message. The message reads "HMCSyou were recently fined £258 please phone...." Naturally, I rang the number provided and pointed out that I hadn't received anything in the post recently.
"It's not our responsibility, Royal Mail must have lost it" was the response I eventually got fobbed off with. I asked why they don't send important documents like these by recorded delivery.
Apparently it'd be too expensive. Ludicrous Im sure youll agree considering the harshness of my penalty, which included a £15 victim fee (don't even ask.).
In summary, I had to bend over and swallow a £258 fine, very close to Christmas for a six month old offence that I'm not even sure I committed?! All this happened on a road that has a completely inappropriate speed limit in the first place.
By: Olly
Leave a comment