14 comments Add a comment
Recently our council wrote to all the residents in our 2-year old street saying that our parking was dangerous and they might have to "take enforcement measures" if it was to continue. But hold on a minute though... isn't this the same council that approved such crazy road plans in the first place?! I realise the intention of the road layout is to slow down vehicles, but this borders on the ridiculous.
Just up the street from me is what amounts to a 90 degree bend. Okay, fine so far. But you first have to bend 90 degrees to the left, then 180 degrees right, all the while trying to avoid hitting curbs and any other vehicles coming the other way because the bend is so tight and narrow. It's also virtually blind because of a small house sitting in that spit of land. Woe betide you if anything bigger than a car comes the other way because one of you is going to have to back up.
So what about the pedestrians? As you would expect we're all quite sensibly slowing down to reduce the risk of accident, but pedestrians are almost forgotten in the attempt to get our car around this badly designed road without damaging anything. Is that safe? Of course it's not!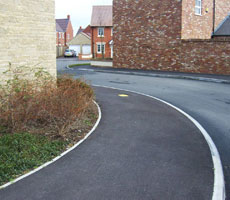 Another example: What should be a simple T-junction is a game of Russian Roulette, guessing whether or not your car will be swiped by another car crossing your path as you edge out onto the road. Why is this? It's all because the council idiots approved building houses just a pavement's width from the road, resulting in a blind T-junction!
We're lucky enough to have a driveway large enough for two vehicles. Not everybody is so lucky. Yet the council have the cheek to complain about our parking when it was they who approved the crazy road layouts that make parking on the street such a danger to all road users and pedestrians! By the way, the photo shown here was taken during the day when everyone was presumably out to work (hence not many parked cars). It's a different story later on in the evening.
By: Swindonian
Leave a comment