15 comments Add a comment
It is a blustery Ontario morning, the nimbus rolling in a promise of a flameout of the ecclesial season of mists and mellow fruitfulness. It wraps the raiment of miasmic gloom over a spectacle of fall colors, foreshadowing by it the beginning of the end of the gentle mood for the onset of a long, hard winter of discontent.
Gripemeister of every stripe will hit nature's trail. What is happening to the state of global geopolitics and collective economy that is hogging the primrose path and left unchecked?
On this note alone, the metaphorics of the elements of today's material world itself allow for the chewing of the scenery; to gripe, that is. Granted the center may not hold, it it still better than not to masticate and then to spit it out, I say.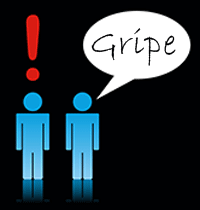 With basic knowledge as impetus, what thinker will not appropriate the Kerr-esque sensibilities: that if I can keep my head when all about me are losing theirs, it is just possible I have not grasp the situation? It means a definitive new world order is in order, with young and fresh talking heads for inspiration, for direction. If to kvetch for us the small potatoes is to help bring it about, so be it. The trickling of vox populi down does and will make a difference.
Grouchiness is not even a geriatric will-o'-the-wisp, a chimerical ignis fatuus of mental and emotional senility, a condition irreversible with a quiet dose of testosterone supplements, posits a researcher from Boston's Morgan State University. Gripers tend to be intellectual, mediated by a cognitive balance of fuller knowledge of facts and articulative power.
Realizing this, we have every reason to keep belly aching and belching until the final cathartic breath has expired. It may be the best kept secret yet for the gentrification and purification of the body and the soul. So help us, God, to not be afraid to tilt towards the atavism of reversionist self-preservation. Who looks after us, who?
By: Sam, the Tiger
Leave a comment