4142 comments Add a comment
One thing that really gets up my nose is inhaling other peoples' stale cigarette smoke against my will. It's about time to ban smoking in public places in this country and stamp smoking out once and for all. You know it makes sense!
There's nothing worse than coming home from a bar or a club smelling like a dirty ashtray
There is nothing worse than coming home from a bar or club after an evening out and finding that your clothes smell disgusting because they have been saturated with stench of smoke. I'm not the only one who is fed up of this, and I'm not some born again non-smoker, I just wish that I had a choice whether or not I came home smelling like a dirty ashtray.
Another thing that I really hate is walking down the street behind someone smoking a cigarette. Every time they exhale out comes that cloud of stale smoke and bang, you walk straight into it and aside from crossing over to the other side of the street there is very little you can do about it. It is not a pleasant experience and it is one I could live quite happily without.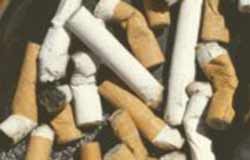 I know there are a lot of people in this country that smoke and I'll be willing to bet that some that are reading this article are fed up with people who don't smoke always harping on about their 'bad habit' and telling them what to do.
The simple fact is though that smokers are affecting the health of non-smokers as well as their own. People die each year just because they have breathed other peoples smoke and that is something we really should be taking seriously. In my opinion a complete ban on smoking in public places is the only way forward. Even outdoors in so called smoking areas!
There seems to be a huge number of web sites on the internet dedicated to stopping smoking or with information about smoking. Here are a few that I thought might be of interest. The Net Doctor is very interesting as it contains information on many health issues as well as smoking, how to quit and it even includes an 'addiction calculator'. If you want to know the facts about Lung Cancer then look no further. Then there's women and lung cancer, an interesting site with some pretty dramatic statements regarding the disease. Apparently the information is slightly out of date now though because breast cancer has just recently overtaken lung cancer.
Leave a comment