35 comments Add a comment
I went into a shop last week and found a shop keeper spraying air freshener rather liberally in the shop. OK, you are probably wondering what is wrong with this - apart from the rather sickly smell? Well, this person has no consideration for those who have breathing problems such as Asthma or allergies. Also, there's the fact that this shopkeeper was spraying this air freshener near to people and products in the shop.
I think that these air fresheners in the spray cans and indeed some of the plug-in fresheners should be banned in public places, or even better banned all together.
These products no matter whether they are cheap or expensive simply mask the smells and contain some disturbing chemicals, in other words you are probably breathing in more toxic substances than you would in the middle of a traffic jam. It is not just in shops where people will use spray and plugin air fresheners, I have seen cleaners, teachers and hotels use these sprays too. They're everywhere these days.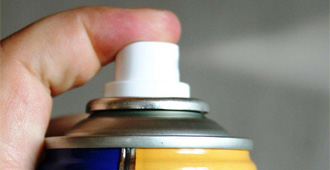 Contrary to what advertisers want us to believe, air fresheners do not 'purify' the surrounding air and they also do not add 'natural' fragrances. Some of these air fresheners even coat the nasal passages with an oily film or by releasing nerve deadening agents to drown out smells. Some air fresheners contain benzene and formaldehyde, these and many other ingredients in fragrances are carcinogenic.
Scented and aromatherapy candles are no better at clearing the air, and bear little or no relation to true aromatherapy. Such candles, are of questionable benefit regardless of the flowery implications of their names, and have negative effects on air quality and health.
Anyway I digress slightly, so in other words I would avoid fresheners and try to open a window or a door to let fresh air in. Surely some proper ventilation would also allow any nasty smells to escape and is the most sensible thing to do? Using air fresheners in public areas, especially the ones that come in a spray can, can cause an irritation to those who have breathing problems. Please consider this and open a window instead!
By: DW
Leave a comment