173 comments Add a comment
We have as smokers of the world endured the past, just short of a week the Smoking Ban, and it has proved to be exactly what I expected. The majority of the pub users smoking outside, whilst people that you have never seen in the pub looking out with their smug grin for the first few days, and then not seen for the rest of the week as they are not usually pub people. This is evident throughout the area in which I live and travel in.
Pubs and clubs should be given the choice
Whilst I can understand that as a non-smoker you are subjected to passive smoking, in the main users of pubs and clubs are smokers, but nevertheless the law is the law and so be it. I would agree with restaurants, enclosed public areas and the like should be smoke free in general, but pubs and clubs should be given the choice to choose whether they wish to be a Smoking Establishment or not, and then subject to regulations concerning the ventilation of these establishments and this could be derived through specific determinations made from regulations. Most establishments have air conditioning these days and air filtration can added to their system quite easily.
In this past week I have noted how many soap dodgers there are, and the amount of people that need to go to a pharmacy and purchase some deodorant, and a number of people need to revise their diet, quickly.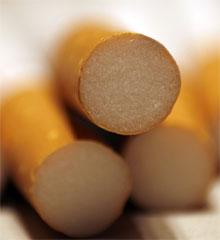 In addition I think we have all forgot how much revenue that will be lost from this ban; the indirect funding that smokers have made to a number of the governments budgets through taxation on smoking products. This lost income will have to come from somewhere, and all of the non-smokers that have looked upon people who smoke over the years as lepers, will soon be putting their hands in their pockets and paying more tax somewhere. Possibly even a 2% rise on income tax. Maybe this will take that smug look off their faces when they have pay out more in tax or many of the hidden taxes that we have to endure in this country.
The Spanish and the French got it right, ignore the government, but improve your air flow units and put up clear signs that the establishment that you are entering is a smoking establishment. You have been warned, if you don't like smoking then be sensible and don't go into that particular establishment. The individuals choice - remember Big Brother has taken ours as smokers away from us.
Revise the Law Mr Brown, don't revoke it, make it fair for everyone and remember as smokers we have funded this country for a long while.
By: JD
Leave a comment