366 comments Add a comment
So smoking is banned in public indoor areas and now we have to put up with revolting smokers whenever we step outside. They're next to the doors at the mall, outside the pub (where the outdoor areas have become their territory), outside the office and in the parks.
Why the hell hasn't this filth been banned completely? It costs a fortune to the tax payer and slows down the NHS, meanwhile fag companies continue to reap the benefit of hawking a dangerous, and filthy revolting product.
Smokers - they are socially unacceptable...
And, if that's not enough...if makes some otherwise quite likable people (the smokers) stink. That's right. They are socially unacceptable even when they come back inside from their squalid ritual. That's right! If you smoke you stink, and your kids stink too (if you smoke in the privacy of your own home). You've really thought of their health and well being now haven't you?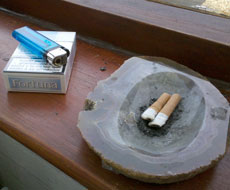 So, spare yourselves, spare your kids, spare the taxpayer, spare the non-smokers but most importantly, spare me from your disgusting habit of smoking!
The only people I wish to continue smoking are the executives of Gallagher and BAT etc. I hope they will enjoy their product to the max and do EVERYONE a favor by copping what we all know smoking is good for.
"Enjoy boys...here let me light that one for you." :)
By: Shove the Butt
Leave a comment