6 comments Add a comment
I was in one of those moods last Friday night while shopping in Tesco. You know how it goes, it was after a particularly hard week at work and I was looking to pick up a few treats. My other half was feeling a bit down as well and I thought I'd find something to cheer us both up. So I picked up a bottle of our favourite wine and then I spotted the Red Velvet Cupcakes on the end of the isle. They were in packs of two for £1.
I'd sampled one of these delicious cakes (not from Tesco) about a month ago and it was like heaven on the taste buds. They consist of a moist red sponge which is ever so slightly chocolatey and a lovely creamy butter icing on top (sometimes with a few red sprinkles). I wouldn't say I have a sweet tooth and I don't eat a lot of cakes, but these Red Velvet cakes are something special and they appeal particularly because they are moist. Also, I'm not a huge fan of chocolate cakes but just a little is really nice. Anyway, I was full of expectation and looking forward to our treat later that evening, but I was about to be very disappointed.
Why are these cakes described as Red Velvet Cupcakes?
When I opened up the packaging what I found inside was a couple of cheap chocolate cupcakes that weren't worth a 20p never mind the £1 that I paid for them! Luckily the wine was going down rather nicely at this point and whilst it helped, it didn't completely make up for the let down.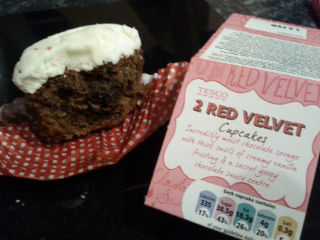 I find it quite disgusting when companies use deceitful packaging to trick customers into buying their product by promising one thing and delivering something quite different. They're basically bamboozling the consumer, tantalising them with the words they want to see and at the same time peddling a cheap, nasty substitute.
The cakes looked like the real deal and you couldn't see that they were in fact BROWN and not red. Why are these cakes described as Red Velvet Cupcakes? Anyone who has tasted the real thing knows that it is a scrummy moist dark red sponge with a delicious creamy butter icing, not a stodgy chocolate cake with this cheap metallic "vanilla flavoured icing".
Whilst I'll admit that the packaging did say "moist chocolate sponge", it was in a very faint red font and was overshadowed by the more prominent, "2 Red Velvet Cupcakes". It was blatantly obvious to me that this was an attempt to cash in on their popularity, either that or whoever was in charge of putting the recipe together for the product just didn't have a clue.
So Tesco, whilst your Gallo wine hit the spot nicely that evening, your "Red Velvet (brown stodgy)" cupcakes fell decidedly far short of the mark!
Leave a comment