58 comments Add a comment
One thing I find completely disgusting is other men who don't wash their hands after going to the toilet. I see it all the time in pubs and toilets at motorway service stations etc. There are plenty of signs there that say "Now wash your hands please" and a whole row of unoccupied sinks with soap and hot running water, so what is the excuse for not taking a moment to do this simple task?
I can only assume that either pure laziness or lack of knowledge in the area of basic hygiene is the answer and it's a pretty widespread problem.
By the way, please don't tell me that it's clean because it definitely isn't Whilst urine may be a sterile liquid, certain parts of the anatomy that have loitered around in the darkness in ones boxers probably aren't immaculately clean - even if you are a modern man who knows that a fresh pair every day is a pretty good idea. This is especially true in the summer where with the best will in the world, things will still get a bit clammy.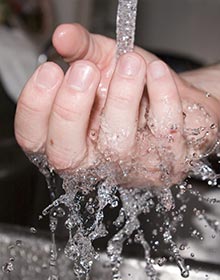 I've also noticed that as I stand there in a public lavatory diligently scrubbing my hands that I'll sometimes get some curious looks and even the odd amused stare from others as they finish their business and leave the room without taking the time to do the same. It's almost as if I'm the one behaving abnormally by daring to wash my hands! Now look, I'm simply washing my hands, this doesn't mean that I swing for the other side you cretin!
Leaving aside the germs and the health issues just take a moment to consider the guys around you in a pub. For example, the next time you area about to shake hands with someone, just ask yourself does he look like the kind of person with good personal hygiene. Did he wash those hands after he wiped his @rse with them. Oh yes, I've seen people do that too. Go into the trap to have a number two then just walk straight out the toilet.
Absolutely disgusting!
Leave a comment