109 comments Add a comment
Do you get service with a smile at Tesco? Maybe some people do, but not always I think! I recently visited a branch of Tesco at Coppets Lane in North London with my little girl who is only four years old. We finished our shopping and went to the checkout where the cashier said ?Hello!? to my daughter.
She is very young and a little bit shy. As it happens she is also a bit wary of adults so she didn't give the cashier a reply on this occasion.
?Excuse me?? said the cashier, ?What are you supposed to say if someone says hello to you?? She then said ?You are supposed to answer back, so where are your manners?? Once more she said to my daughter ?Hello? Now what are you supposed to say??
Fair enough if had she been joking, but she was being deadly serious! She then (unbelievably enough) launched into a tirade of how bad mannered and impolite my daughter was. Come on for goodness sake, she?s only four years old!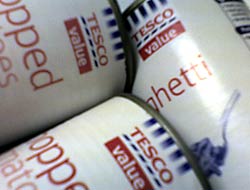 I replied that my daughter had been taught not to speak to strangers and obviously this shows that she has in fact been well brought up. As a result of all this my little girl was quite understandably very upset. I don?t usually complain about anything, but on this occasion I called the store to make a complaint about the cashier.
Unbelievably the reply I got was ?Oh, she is usually so friendly and she's alright with customers.? I understand some people may hate their jobs and I half expect some of the staff to be rude, but not to small children. This experience has left a bit of a sour taste in my mouth.
I think it's about time Tesco (well, this particular branch anyway) sent their staff on some proper customer service type training courses on how to deal with members of the public. I shall definitely stick to Sainsbury?s for all my shopping from now by the way!
Leave a comment