29 comments Add a comment
I am sure some people will argue with this gripe, but so be it. I have seen this from both the customer point of view and as a barista at a popular coffee shop. I am sick and tired of idiots and time-wasters who cannot do something as simple as place an order and pay for it.
Let me put it this way... How many times have you gone to a coffee shop and have been in a queue waiting patiently a few minutes, to order that coffee and treat you have been dying for all day.
The man or women in front of you finally gets to the front of the queue having been there about the same amount of time as you, and then when they're asked what they would like, this is the moment they actually take the time to look up at the menu that has been there the whole time. Of course you have already chosen what you want whilst waiting.
after taking what seems like hours to decide...
Their lack of attention of course makes you wait even longer as they decide, umming and arring, asking questions about everything on the menu before actually making a decision. The barista gives you an apologetic look and then after taking what seems like hours to decide, they change their orders and call more friends over to check what they want. Meanwhile, you're stuck waiting and now half your lunch time has been used up. Do you recognise this scenario at all?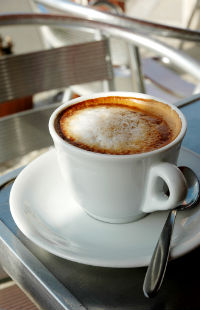 I know what you are thinking, don't coffee shops add a lot of faff to their cup sizes, drinks, syrups, extra shots of espresso and lots of options that can confuse and slow down the process? Well most of them do try to make things as clear as possible and baristas are usually happy to help a new customer find what they are after. At least that's my experience and as a barista myself. But half the time these time-wasters are actually regulars who have been before!
Finally after all this is done, they've made their mind up and the barista looks as if ready to kill, they are told the price of their items. A simple thing right? Take out money and pay the annoyed looking barista. Nope! Realising they actually need their money/card to get these items, they either spend ages rummaging though bags to find their wallet/purse, or even worse you hear them say 'Oh, I'll just go get my money' because they have left it with their friends who are seated! Both server and next in line have to wait yet again!
The baristas are the ones who have to keep smiling, be patient and apologise to all other customers who are complaining and giving them filthy looks, when all they really want to do is scream! Let us not forget the poor person stood next in line who is stuck waiting for ages for the ditherer in front of them to grow a brain cell and do something as simple as order and pay for it!
Yes I am whining, but I am sick and tired of this stupidity. Am I wrong to be annoyed by this? Is it really so hard to place an order. Remember at the end of the day, it is not just my time as a barista they are wasting.
By: Rogue's View
Leave a comment