23 comments Add a comment
Why is it so hard to get companies to deliver goods at times that are convenient to you? Flower delivery, pizza delivery or food delivery of any sort won't give you a problem because the chances are you'll be at home when you order them or someone will be in to take the delivery. Home delivery for any sort of appliance such as a fridge or washing machine is another matter.
You're going to have to take the day off work
It's all very well to go into the store and buy the goods with a home delivery but there is a slight problem. You're going to have to take the day off work or make special arrangements for someone to house sit and wait for them to arrive.
It's a nightmare scenario that we've all faced at some time or other having parted with our hard earned cash in the showroom or signed up to some low interest credit deal.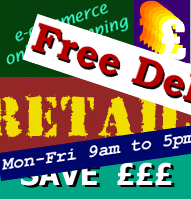 Try sweet talking the retailer into delivering at a time that is convenient to you though and you'll come up against that familiar brick wall of 'we only deliver during office hours' or 'we do not deliver at weekends'. The concept of flexible delivery times seems to be an alien concept to some of these companies, and yet there are others out there that will bend over backwards and try to be accommodating.
We only deliver Monday to Friday 9-5
Do they seriously think that we all sit around at home during the day with nothing better to do than wait at home until it is convenient for them to deliver? Unless you are retired or unemployed this is just not going to happen. We all have busy working lives and have to earn a living so so what do you do?
Leave a comment