44 comments Add a comment
Recently I attempted to travel into work using public transport, not as a moral stand against gas guzzling cars (my little 1.1l Citroen could hardly be called a gas guzzler however!) but because I had an all expenses paid company function that evening and I didnt want to leave my car in the office car park overnight.
... if that bus had stopped instead of sailing past
I consulted the bus timetable, selected a suitable departure time (7.22) and looked forward to letting the bus driver cope with the stress and strain of my 20 mile drive into work for a change. I arrived at the bus stop at 7.15, in plenty of time to catch the 7.22 I thought, well it would have been had the 7.22 actually turned up. No matter, there was another bus scheduled for 7.34, I could get on that one and still be at work on time, or I could have been if that bus had stopped instead of sailing past the stop completely empty!!! O.K. then there was always the 7.42, I would be a bit late but nothing too much to worry about. At 7.38 two buses arrived at the stop, I got on the front bus, paid my 2.30 fare and sat down. At this point the driver of the bus behind pulled up beside my bus and after chatting with my driver it was decided that the second bus would leave straight away and my bus would wait 10 minutes or so. No one on my bus was given the option to move onto the other bus.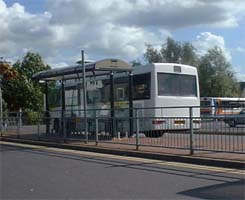 At 7.48ish my bus started its leisurely trip around the local neighbourhoods picking up passengers. The delay in departure meant that the bus hit the main road out of town at peak time and the newly installed traffic lights on the A34/M40 junction served only to delay my progress even further. The one and only high point of the trip were the bus lanes that enabled my bus to sail past the queues of cars making their way into town.
My journey was then fairly trouble free but for the bus having to pick up several English language students who (a) didnt know where they had to get off; (b) seemed confused by English currency; (c) had travel cards that they didnt know how to use. I arrived in town at 8.45, half an hour late for work already and then waited 15 minutes for a connecting bus that got me to work at 9.15. So a 20 mile trip took me 2 hours, I could have got into London in less time!
I for one will not be swapping my un-environmentally friendly car for public transport until it becomes cheaper and more reliable. I arrived at work more stressed than if I had driven myself in.
Leave a comment