127 comments Add a comment
I must admit my job wouldn't suit everyone as I'm employed as a Pathologist's assistant and also work in the mortuary of a local hospital. The thing that really gets to me is the fact that people think I must be odd to do such a job. Why is working in a mortuary so strange to them? A pathologist's assistant is a job like any other, you go to work, you do what is required of you and then come home at the end of the day.
I suppose its only human curiosity really...
I try to explain that someone has to do it, and since I have now as I've done it for years it doesn't bother me in the least. The job itself is clinically done and there's nothing ghoulish about it in any way whatsoever. If for instance I'm in a company and my job comes under discussion, there's always the same old questions, for example "What happens to any artificial hip joints or pace makers, are they removed and used again?" I suppose its only human curiosity really.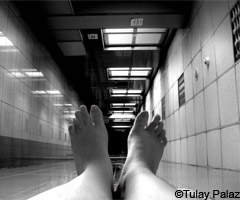 I suppose any of the emergency services i.e. Fire, Police or Ambulance etc. have all at sometime or other experienced this. It would appear that someones misfortune is someone else's interest, for example: why do drivers slow down to look at an RTA on the opposite carriageway, or why do they watch a building burn when they know there's someone inside? It can only be described as a natural inborn inquisitiveness. In cases like this the emergency services are always at the sharp end and meet these tragic events head on.
These people can only be admired as they don't know what gruesome site is waiting to greet them whereas in my job as a Pathologist's Assistant, I know exactly whats waiting for me. I more or less put things back together again and make things look more presentable. I have often thought that if people could see the results of a fatal road traffic accident caused by their stupidity, would it make an ounce of difference - I fear not though...
It would be interesting to know if anyone else has experienced this kind of thing due to the nature of their job or their profession. Are others who work in a mortuary perceived in the same way?
By: Aldo
Leave a comment