375 comments Add a comment
I dislike people who steal motorcycles. If I had my way they would dealt with quite severly. Stealing of any sort is bad, but when someone walks into your garden and takes your bike, its kind of personal! By the way, this is the second time this has happened to me as I had a Suzuki Bandit 1200 stolen from me about five years ago.
Bike stolen? Post a message on our forum...
I bought this bike, a Honda Spada (VT250) as a temporary means of transport a few of years ago when some silly woman decided to pull out in front of me as I rode to work one morning on my Kawasaki ZRX1200. Unfortunately the ZRX had to be written off. The Honda was a great all round bike though as it was both economical and quite sporty at the same time. Considering its size it handled really well and I was more than happy to stick with it, especially as insurance, tax and running costs were low.
Unfortunately, due to financial problems I had to take it off the road for most of the last year, but as it happens I passed my car test so transportation was not a problem. I missed the bike though and was really looking forward to getting it back on the road, especially since the start of the warm weather and seeing lots of other people out riding their motorcycles.
I moved house towards the end of last year, and just before that I spent some time servicing the Honda and bringing it back to reasonable condition. The winters can be cruel to Japanese steel and chrome! My girlfriend even re-covered the seat as it had pretty much fallen to bits by then. Amazing what you can do with an old leather computer chair by the way!
So there she was, all cleaned up, serviced and with a recovered seat, painted swinging arm etc. It was pretty much ready for an MOT in fact. Unfortunately it was about then I somehow managed to loose the ignition key. That was a blow, because I was right in the middle of moving house and didn't have time to sort it out. I ended up pushing the bike to the new address which was only a couple of miles up the road anyway.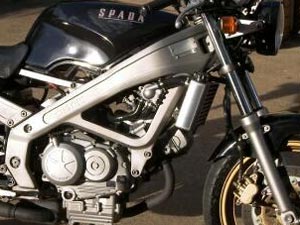 As ever when you move house it's a bit chaotic, so the bike has been in the garden until recently when I managed to get new keys cut. I hit yet another snag because the petrol cap and the ignition keys were different on this bike. I had to get the old cap off and find another one. I managed to do this only last week and the place I bought it from was due to post it out to me on Monday.
This has all been a waste of time though as some lowlife scum decided to steal my motorcycle at some point during Saturday night. People who steal bikes should be strung up in my opinion! The worse thing is, it wasn't insured as it was off road and I couldnt afford the extra cost. Why wasn't it locked up securely? Well I mistakenly believed that I lived in a nice quiet area where hardly anything ever goes on. You really need to go off the beaten track to find a motorbike in someones garden. Besides, there was normally a car parked in front of the gate so getting it out would have been impossible. Unfortunately this particular day the car was parked just a few feet further back allowing the thieves to wheel the bike out.
I know I should have had the bike under lock and key, or perhaps had some insurance on it. Insurance companies never actually properly compensate you for your loss anyway and if someone really wants to steal your bike they can simply get a few mates and lift it into a van anyway. Really effective security measures are impractical and expensive. There isn't really anything you can do. If thieves want your motorcycle and they are serious about it; the chances are they will probably get it. Then of course once they have stolen from you, you report it to the police. I'm not entirely sure what the point is there either because they never recover it anyway; they're too busy doing something less useful than catching criminals.
So today I'm pretty depressed about all of this. I don't have the money to buy another bike as I am self employed and not on a high income. I am very likely to miss out on the current spate of nice weather, which by the way is almost perfect.
Leave a comment