41 comments Add a comment
I really can't understand new parents that give up the things they enjoy when the baby is born. It's the same old story all the time.
I saw an advert on the work bulletin board today for a Suzuki Bandit. Excellent condition, 600cc and a genuine reason for sale as the driver is soon to be a daddy!! Why does he have to sell his bike? They're about to have their first baby. I really don't understand why the bike has to go and I think he will regret it later.
Yes, its true that with a new baby on the way you need to act responsibly, but giving up your passion, or something that has given you so much pleasure really isn't necessary. Having kids is no excuse for so radically changing your lifestyle.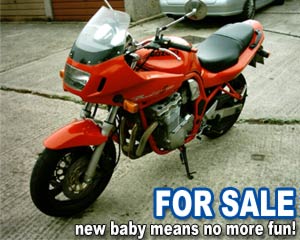 I saw another similar advert on eBay a couple of months ago. This guy was selling his paraglider and paramotor for next to nothing. His wings had been "clipped" as a new baby was on the way. Get a life guys! It's a child and I'm sure it will grow up and completely understand that daddy likes to have a little fun.
Better to go for a ride on the bike than have an affair?
The thing is, every now and then you will really feel like you to need to get away from it all and that's when you will regret having sold these things. Probably better to go for a ride on the bike or have a fly about than to have an affair I would have thought.
Leave a comment