33 comments Add a comment
I saw one of the most dangerous manoeuvres by a motorcyclist I have ever seen in my life whilst driving home along the M40 one Sunday evening. Had I witnessed the same thing on any other day and at a much lower speed I wouldn't have thought anything of it, but on this particular evening it was more than a little bit risky for all concerned. This kind of motorcyclist doesn't just ruin the reputation and image of bikers (although he certainly does that), but more importantly, he risks the lives of those around him.
It was at that time of night when street lights flick on and the sky is kind of dark blue. Cars have their headlights on but it's not quite bright enough to illuminate the road. It's a very awkward light for driving at the best of time. Add to that plenty of lashing rain and some spray off the road and you're creating quite a tricky scenario where absolute concentration is required because the visibility is so poor.
Make it more interesting by filling two lanes of the motorway up with lorries all trying to outrun each other whilst travelling a few inches apart. This brings out the idiots who HAVE to get past them undertaking anything and everything, only to brake like hell when they realise they can't see a thing just as they overtake the lorry.
Are you getting the picture? Good. Now bear in mind that we're all actually travelling at around 50 to 65. You can't really go any faster because it would be VERY stupid due to the road conditions. Did I mention the fools who decide to turn their fog lights on just to make sure you really can't see what's going on around you?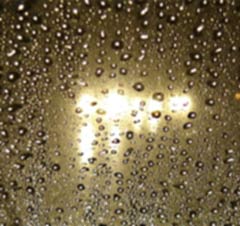 Anyway, this idiot was on a motorcycle and he obviously has no regard for his own life or that of anyone else around him. Don't get me wrong because I don't have a dislike of motorcyclists, in fact most of my time on the roads has been on a bike since I passed my test in 1992. It's only been in the last couple of years I have had the opportunity (and a licence) to drive a car. We all do stupid things from time to time and I'm no exception to that, however I don't think I've ever ridden as dangerously as this lunatic.
He can physically get the bike through the gaps okay as he weaves in and out very rapidly. But he's not considering the possibility that the cars won't see him due to the poor visibility and conditions at the time. He was extremely lucky not to have a spill right in front of me as a couple of cars decided to change lane just as he squeezed past.
Luck runs out eventually though. I'm assuming he made it home safely that night because I didn't hear anything about an accident on the radio and thankfully it didn't happen right in front of me. I dread how many casualties there could have been.
It's only a shame that all the nice motorcycles seem to be wasted on the most reckless and undeserving bikers!
Leave a comment