19 comments Add a comment
Burglary, petty theft and stupid pranks, that's my gripe for today. Some idiot has stolen the doorbell from our front door. Why? I just don't understand people who take things that don't belong to them. We work hard for the things we have and look after our home and garden. It now means we have to buy another doorbell. Things are tough enough as it is having to cope with burglary and petty theft.
Thieves should get off their backsides and work for a living. We had our home burgled a few years ago and it cost me a great deal of distress. In the end we had to move. I couldn't sleep and set up elaborate traps for any potential burglar. It left me, a single working mum, terrified. All the jewellery given to me over the years by my mother, grandmother and loved ones gone. They even stole the DVD, my child's films, camera and more.
A week before I had my loft insulated and draught proofing done on windows and doors. Now, when I have 'people' in to do jobs I ensure that I have family around upstairs and down to keep an eye on things. I can't prove if it was them and to this day wonder if the police ever investigated the firm concerned or linked it to other thefts in the area.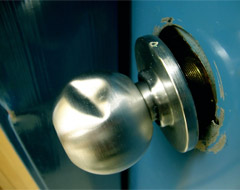 I was unlucky. The flat below me was empty and they used a crow bar to enter my flat when my son and I were at a friend's birthday party one cold December evening. November and December are the months favoured by thieves - it gets dark early which presents them with endless opportunities.
Take precautions when you go out. Leave lights on and tell your neighbours. Lock side gates. Lock and secure garages/windows. Don't leave items lying about in your car. Have an alarm installed.
Merry Christmas everyone and look after what you've worked so hard for.
Leave a comment