124 comments Add a comment
I have held a motorcycle licence for over twelve years and I'm just curious to understand something that doesn't really make sense to me. It's regarding the law on vehicle tax, insurance and crash helmets etc.
It all started one day as I was watching an old bloke on an electric scooter whizz down the road with no crash helmet on, no registration number plate, and one would therefore assume no road tax or MOT. I presume that he wouldn't have insurance either in that case, so my question is, is this all perfectly legal?
Okay, so now let's come round to your bog standard bicycle. You can actually get an electric or petrol motor to fit to your bike which will kick in and give you a little bit of extra oomph when you need it. However, these vehicles still don't have to have a registration number plate. They still do not require an MOT, road tax or insurance either, even though it should now be classed as a motorised bicycle ergo a motorcycle!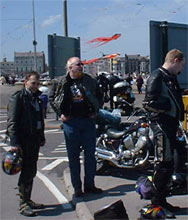 So my question is, why can't I ride my motorised bicycle (a Kawasaki GT750) on a bicycle path, when my taxation class is BICYCLE! It's all a bit silly really isn't it? Surely I should be able to take my motorbike anywhere a bicycle is allowed to go (i.e. a designated cycle route or cycle paths etc.) I should even be able to ride on a BMX track if I so wish!
As the owner of a motorised bicycle I should have the option, like cyclists to wear protective clothing as and when or IF I see fit (or can be bothered as it happens) - that includes the motorcycle crash helmet. After all, cyclists aren't required by law to wear a crash helmet are they? I'd like to know what other people think on this issue.
Leave a comment