26 comments Add a comment
Bike thieves are low life and should be hung in public in my opinion! September last year our Suzuki GSX 600F was stolen from behind a locked steel gate. We were very fortunate to find the person who stole it. It was taken by fourteen year old out for a bit of a joyride.
Anyway, we caught up with him and managed to knock him off it before he got away. OK that caused a bit more damage, but at least we got the bike back. He was prosecuted in the end, but it was the same old story, mum and dad are on the dole and drink all day so of course we got no compensation.
Stolen bike was secured with a disc lock...
The day before yesterday I happened to look out of our dining room window to check on our bike parked outside the house. The bike was secured with disc lock on rear wheel so we thought that it would be safe!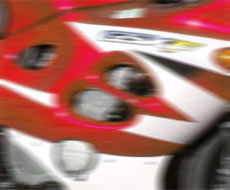 What I saw was the back end of our lovely bike disappearing into this rusty old white transit van. I shouted to my husband Keith, but by then it was too late. I managed to catch the registration mark of the van before they were out of site and got straight on the phone to the police.
They are now in the process of dealing with theft and trying to track down our bike (we hope)! Meanwhile, we sit here gutted and agitated hoping we will get it back, although to be honest we don't hold much hope! Losing our bike feels like winning the lottery and losing the ticket.
By: Samkfm
Leave a comment