27 comments Add a comment
Around three weeks ago, a work colleagues motorbike got knocked over our works private car park. We work in a pharmacy, which shares the building and car park with a very busy doctors surgery.
The incident was not reported by the car driver who knocked the bike over. We managed to get the property manager to review the CCTV tapes and a people carrier was observed reversing into the bike. The driver got out and saw the damage done to the bike; they then got into their car and drove off!
The licence plate number was out of focus, so the unfortunately owner can not claim on her insurance until the police have looked at the tapes. In the meantime, her husband had to leave work early and come to the car park to help us repair the motorbike so that she could drive it safely home. At this point the police were informed. My friends husband dealt with the repairs to the bike and due to the severity of the damage he had to fit a number of new parts. The police said they would try to send someone out to collect the CCTV tapes, but to date no-one has come to do this. My friend visited the police station and has even made lengthy phone calls to the police. Each time she gets told the same old story "We will try and send someone when we are not busy"
Since this incident happened she got her bike properly repaired, alarmed (to alert her if any one done drove into it again). Unfortunately this has happened again, although unlike the last time there was considerably less damage.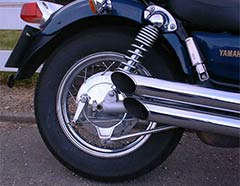 She decided however, not to even bother reporting the incident to the police as she feels it is completely pointless, particularly as the first issue hasn't been properly sorted out. Furthermore, she now no longer parks her bike in the private car park as she feels it is safer to park on the main road!
I have watched my colleague and friend cry, be angry, confused, hurt and upset throughout her ordeal. All she did was come to work, park legally and safely in a private car park and yet she has suffered both financially and psychologically through no fault of her own.
Now she constantly worries about the safety of her motorbike. Will the driver who knocked it over ever be punished and will she ever see anything of money spent on repairs? Somehow I doubt it and I think that the way her case has been handled by the police is a crime itself. What do you think?
By: RC
Leave a comment