954 comments Add a comment
As a biker I do not understand why horses are allowed on the road. Horse riders are for ever complaining about vehicles not giving them room, yet they allow their animals to foul the road.
All you can do is hope and pray...
Don't they realise that when other vehicles, which pay road tax to drive on the public highway, hit this crap it creates a major danger. I ride to work 20 miles a day through country villages (the most direct route for me). One of these villages is the home of one of the country's major polo clubs, along the main road through the village there are many blind bends. You are riding along at a safe speed when you lean into a bend and there it is in the middle of the road, worse than ice, where do you go? All you can do is hope and pray.
Why is it in this day and age where people are fined £500 for letting their dogs foul the verges, is it that horses are allowed on the road? Why don't they ride around with a shovel on the back of their saddle so that they can remove their own crap.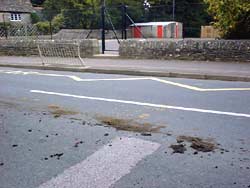 On top of this, especially near these polo grounds or hunting sites you have the typical upper class country folk who ride along and look at you as if you were the person who should not be on the road. Not so long back one of these stuck up b*****s decided that a friends car, which had slowed down to overtake her horse passed to close and smacked it with her whip causing extensive damage. Funny she hadn't any insurance and was not taking the blame and the Police don't accept it as criminal damage.
In conclusion, why is it that a horse which is not completely under the control of its rider, has a brain of its own, which does not have to pay any insurance or tax to go on the public highway, is allowed to leave its excrement on the road?
By: Duggy
Leave a comment