148 comments Add a comment
My gripe this week is with speed cameras! "Speed Kills" is the message that is filling the current advertising campaign; however, in my opinion, it is not speed alone that kills but dangerous driving. The problem with speed cameras is that they are not able to make this differentiation.
We all speed at sometime during our driving experience, even if not intentionally. Sometimes it is necessary to exceed the speed limit to keep safe on the road, to manoeuvre out of a dangerous situation for example. Speeding on an empty motorway at night is not the same as speeding in a built up area, where children might run into the road. Speed cameras are unable to judge an offence individually and therefore penalise each offence as being equal when they are clearly not.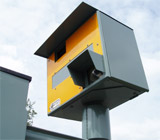 Speed cameras do not penalise drivers for speeding, we all speed now and then. I think it would be more appropriate to say that speed cameras penalise drivers for getting caught.
The most dangerous offenders of breaking speed limits and threatening road safety are probably the ones that know where all the camera points are and take deliberate measures to avoid getting caught.
Whilst I agree that there is a place for prevention and increased speed awareness, I feel that speed cameras do not really work to make the roads a safer place; they merely make driving a less pleasurable experience.
Leave a comment