51 comments Add a comment
"I pay my council tax so they should clean it up!"
"Its not my problem."
"But there are no bins around here, where else am I supposed to put it?"
I personally have heard all of these excuses being used to justify littering, and I dont know if it is just me, but I think that each one of them smacks of entitlement, apathy and sheer lack of pride. Weve all seen it; the family throwing the remnants of their McDonalds takeaway out of their car window and driving off, the empty beer cans strewn around a park bench on a Sunday morning, the cigarette butts lining the gutter amongst millions of other examples. Why on earth is it tolerated?
For a start, litter makes a place look horribly untidy but that's only one of the issues that it raises. Hygiene is a big one, with rats and seagulls being attracted to discarded foodstuffs, and I dont think that I even need to mention how nasty it is to see used condoms, dirty nappies and hypodermic needles lying on the ground where any-one's child or dog could get at them. Think of the plethora of diseases just waiting to be spread!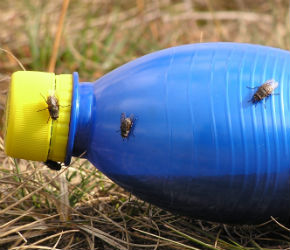 Litter can also cause injury to both people and animals. Ive heard many a story about foxes getting their muzzles caught in tin cans, dogs choking on crisp packets and birds getting six pack rings caught around their necks. Ive even had my own litter-related injury. As a child, I was playing in the park and lacerated my leg after falling onto a discarded, smashed up liquor bottle resulting in a trip to the emergency room, several stitches and a permanent scar. I wonder if the people who left it there considered that such a thing might happen. My guess is, probably not.
As for the 'lack of bins' argument, how difficult is it to stuff your rubbish into your bag or pocket or simply just keep a hold of it until you reach a place where you can dispose of it? Yes, I know that it is inconvenient but I'm reasonably sure that nothing catastrophic is going to happen if you have to hold on to that sweet wrapper for another one hundred metres. So please, have some respect and consideration for other people, wildlife and your country and dont just throw your rubbish on the ground.
By: Cephalopod
Leave a comment