24 comments Add a comment
If there's one thing that really annoys me, it's they way that so many people frequently complain about the elderly these days. For example, I was just on FB and a friend of a cousin had posted a comment about an old person who had been holding up a queue of shoppers. Apparently the argument was all over 9 cent discrepancy in their bill.
This was her original comment. "Promises to Never hold up a check out line when the price is 9 cents more than it was advertised to be... especially when the lady behind you (Me) has a screaming kid!! Old people drive me crazy sometimes!"
I had to respond immediately with "Okay, I've been the one in line with an upset kid too, but you've got to understand these OLD people you talk about deserve some respect. They've seen things you can't imagine. If that old lady or old man wants to adhere to the price they were expected to pay, take control of your kid and yourself and let these people stand their ground. You don't have to understand it, you don't have to like it, but if that was YOUR grandmother or grandfather in line, wouldn't you let them have a little dignity?"
After as few minutes I had more to say...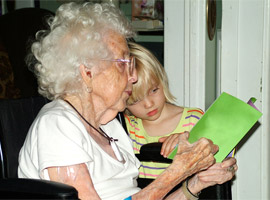 "I'm not through with you yet. Most of these OLD people you speak of are on a fixed income, set up by our precious government on the idea that they won't live past 65. The inflation goes up when their social security doesn't so they HAVE ...to pinch pennies. Maybe that's also because their worthless sons and daughter have forgotten who gave them life and brought them into this world. And who 'in God's name' made your time more precious than theirs?? For you're information - you will be old one day too!"
I am a Christian with a hard background and it makes me so angry when come across people who have this kind of thought process. I'm 38 and I have a lot of respect for my elders, they are so smart and excuse me, but it really ****** me off when people disrespect the ones I hold dear. My elders know so much more than I can ever imagine, stupidity and ego is what is making the world so unpleasant.
By: Julie
Leave a comment