168 comments Add a comment
So we decided to go to Alton Towers on a Saturday, and at a time when the schools had broken up for the holidays We should have known better, but we were looking forward to it and I was quite optimistic that it wouldn't be too bad.
We had taken the kids to Legoland near Windsor a couple of weeks before and that was bad enough, queuing for up to an hour for some of the more popular rides and attractions. However, our nightmare day out at Alton Towers made the whole Legoland fiasco seem quite insignificant.
We arrived at around 10.30 am, which wasn't early, but wasn't exactly late either. The first thing to do was to queue up at the booths for tickets, this wasn't too bad and it all seemed to be flowing quite well. Ticket prices were 29 for adults and 5 for the shortcut pass, but unfortunately all the short cut tickets had already sold out.
We didn't sit down to eat at any of the expensive junk food places; we had already decided this would just waste valuable time. A small lightweight packed lunch turned out to be a very good idea as it meant we could eat whilst we waited in the queue to get on the rides. Believe me, we had plenty of time to eat!
... wait time for that turned out to be around an hour and a half!
The first thrill of the day was to be Oblivion, a vertical drop roller coaster and one that I was particularly looking forward to, as I never had the opportunity to ride it on my last visit to the park. Well, it was fun, it was VERY brief, and the wait time for that turned out to be around an hour and a half! I didn't really grumble too much about that, probably because it was still quite early and I foolishly thought as lunchtime was approaching the queues might get better.
This was not to be the case, because we then had to stand for nearly two hours to get on Air. I can't bring myself to say it was worth the wait though, because my legs really were aching by the time it was our turn to get strapped into the coaster. After riding Air, I needed a sit down and some hot coffee, but I decided to have a hot drink on the move so that we could get to the next queue sorry, I mean the next roller coaster!
The final attraction of the day at Alton Towers was to be "Rita, Queen of speed". Yes, this was to be the grand finale. We didn't know it at the time, but the queue for this new thrill had grown to nearly two and a half hours; they had in fact had to extend the queue barriers to make room and the closed the gates not long after we joined the queue. Still, at least this gave us plenty of time to eat the remainder of our picnic and read all the messages scrawled on the fence by all the previous thrill seekers. These individuals had presumably been fed up as well! It occurred to me at some point during out wait, that the queue I was in, was probably several times longer than the actual roller coaster track!
Anyway, we decided we had had enough and it was time to leave at around 6 pm, just before the fireworks started; no way was I about to queue up to leave the park. For us, a day out at Alton Towers had consisted of a couple of minutes of sheer exhilaration on the 3 rides we managed to get on, and about 6 hours of shuffling whilst looking at the back of someones head! Not exactly value for money is it? By the way, I decided not to buy a car park token for 4 quid on the way out. So there!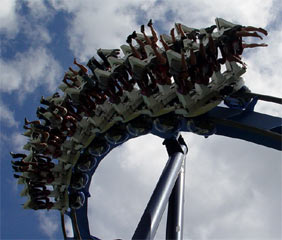 There are, in my opinion a number of reasons for the extended queuing times at Alton Towers and one of them is the number of people they try to pack through the gates each day. Its a VERY big place with lots of open space, so it appears to be deceptively less busy than it actually is.
Another thing that may lead to the long wait times at Alton Towers is the shortcut-pass system they operate. It's all very well to skim a few more quid of park visitors so that these people can join shorter queues, but if you think about it, it has got to increase the amount of time the rest of us spend queuing. They are in fact operating a two-tier system, whereby if you can afford it, you can buy your way to the front of the queue. What kind of message does this send out? Thats really not very fair in my opinion!
The fast track system they operate, and I believe other theme parks use, is in some ways a much better. You simply book your ride and then come back at the appropriate time. The trouble is, at Alton Towers these tickets are all sold out by 10.30 and again its this two-tier system that slows the main queue down.
You are always going to get queues at theme parks, its a fact, and yes there are going to be some days that are busier than others. However, I think the park planners should consider the worst-case scenario and get rid of these unfair money making schemes. They provide extra income for the park, but at the expense of increased waiting time for the majority of paying public. What do we want? We want a single system, with a maximum waiting time of one hour. There should be enough rides and attractions for the number of visitors to the park.
By: Thrill seeker with sore feet!
Leave a comment