140 comments Add a comment
Sky seriously need a wake up call when it comes to their attitude to existing customers. As a customer of Skyfor 20 plus years, I have had on occasion dealings with some customer services representatives who have been ignorant, hugely arrogant and rude. It is well known that Sky dazzle and promise the earth when they lure customers to join, and upon doing so they find themselves cast out and relegated to the "unimportant, spend no time/skill/product on them, aren't they irritating, they are just cash points" group. Even after 20 years, I am not allowed to qualify for any of their special TV, broadband and telephone packages. All this I have all taken on the chin, but now Sky has managed to surpass even its own record for appalling treatment of existing customers.
Unwilling (and unable) to pay by Direct Debit due to economic uncertainties, I opted just over a year ago to pay by invoice instead and agreed to incur the administration fee of 3.91 extra per month. This Friday morning I paid my monthly fee (albeit 10 days after the due date).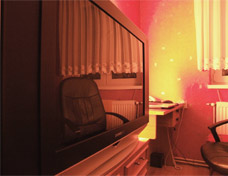 Sky has taken my money this month for a service it is refusing to provide

On Friday evening, I turned on my television to find that my channels were blocked. WITHOUT ANY WARNING WHATSOEVER, (no letter, email, phone call etc) Sky has suspended my viewing as it wants another month fees in advance because I do not pay by direct debit (not so much will not as can not).

So basically Sky has taken my money this month for a service it is refusing to provide me until I either pay up again or go on direct debit. They will also not refund my month's service fee. They tell me that they are perfectly entitled to do this because this is all in their terms of business. As I am currently on benefits I am unable to find another months fee and it would be financially incompetent of me to set up a direct debit, perhaps even fraudulent or worse.

This is all legal, because they tell me it is in the terms and conditions which I signed when I joined. Sky have made it impossible for me to ever be given the service for which I have paid. They have not even apologised for the lack of warning. In today's climate of economic stress, at the start of the summer holidays, how can a corporate entity behave so very, very shockingly and treat its customers with such utter contempt?

By: madlyabsolute



Leave a comment