9 comments Add a comment
I would like to put a twist on my gripe... Actually it isn't really a gripe at all. Maybe my gripe is more that so much negativity around. I would like to take some of your time to demonstrate that there is good in the world and I recognise and appreciate said good when it occurs.
Let's start with the all-favourite subject of broadband. My mother, 58 years old living by herself, and not the most computer literate person in the world, has Talk Talk broadband, on an unbundled exchange.
The service was activated the day is was meant to. The speed was a little low, so a 10 min phone call tweaking the SNR and she had the expected speed (2.5MB, as she is very far from exchange). Connection is stable (stays up for 28-30 days at a time) and speeds are spot on. So that is fine. A year on and no problems developed with the service. I have Sky HD. Again, service was installed right on time and has never caused a problem except for a firmware update solving a small problem which caused the box to spontaneously reboot once a week. Fixed by support chaps promptly and cheerfully.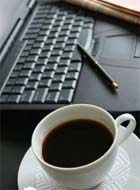 I have a BT phone line and UK Online Premier broadband. Again, installed on time (actually three days early). Speeds are better than expected (6M down 1M up), connection is stable and speeds are what one expects, better than the availability checker reported, with no fair usage policy, download limits or bandwidth managment. The BT phone line has never developed any problems, 12 months and counting.
Hutchinson 3G UK - been with them for three years and have just renewed my contract for another 18 months. Prices are still beating the competition hands down and the new handset every year or year and a half is nice. Customer services are improving all the way. They are offshore, but knowledgeable and prompt to answer.
Exeter city council - I couldn't afford my council tax one month, they didn't mind, just paid a little extra for the next few months, all squared away. No threatening letters, no long time on hold, just one simple phone call and they let me off the month.
I could go on. But I would like to thank all the people that I pay my hard earned cash to for providing me with an on or above par service every time around. And thank you for reading, I think it's nice to see a positive amongst so many negatives.
By: Nick Derczynski
Leave a comment