19 comments Add a comment
I've been short changed when ordering a round of drinks at the bar on many an occasion. Okay, I admit that sometimes I've been out with friends and we've all been a bit merry and I haven't checked my change until it was too late.
We all make mistakes, and so do bar staff. The onus is on the customer to check change given, because as they say 'mistakes cannot be rectified later'. However, I do get the feeling sometimes, that some bar staff in some pubs and clubs are a bit unscrupulous and seek to take advantage of customers once they have had a few too many drinks. They're okay at the beginning of the evening and you'll always get the correct change. But a few rounds later on, they are in the perfect position to know who is getting a bit drunk and could be fobbed off with change from a tenner instead of a twenty! Maybe they also watch customers to see who checks their change and who doesn't.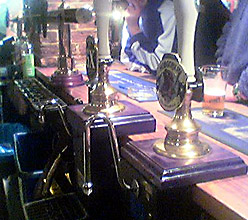 Also, I've noticed that in general I am more likely to get short changed at some trashy club type place than you're traditional drinking pub. The bar staff in these places are usually quite busy on a Friday and Saturday night, but it's not like they have to do arithmetic in their head to work out how much change to give you back.
I'm not having a go at all bar staff in general though. The very large majority of them are professional, hard working and pleasant to customers. I have no problem with them. There is definitely however, a very small minority that would exploit customers to line their own pocket and these are the ones I have a gripe with.
Leave a comment