83 comments Add a comment
Are you sick and tired of call centre staff who are unhelpful, badly informed and sometimes rude? Do you get frustrated and angry? Do you sometimes find yourself being rude and abusive?
Well take a minute to calm down and remind yourself that you are in fact speaking to a real person and not a machine. That person is almost certainly poorly paid and doing this job to make ends meet, almost certainly ill-informed by Management in quite a few areas and quite possibly ill-trained and lacking support.
They might be facing redundancy through no fault of their own and wondering how to pay the bills next month. They might be just like you or your friends or your children - would you really treat them like some people treat someone in a call centre?
Well here is a plea from someone working in such a call centre. It wasn't my dream to be here but I am here to help, believe it or not. What would transform my job would be if you were calm, polite and remembered that you are speaking to a person.
Please greet us as you would anyone else: my heart plummets every time I answer the phone and here the words from a customer "Oh great, now I have to explain it to another one". I'm not "another one", I am the person who is going to try and help you.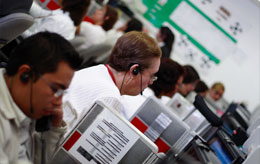 Please have your order number or reference number ready. Unfortunately I am not psychic so if you don't know this number it makes it very difficult and time-consuming to find your details. What is the point of the company sending you emails confirming your order if you cannot either be bothered to read them or bother to record the order number.
Please don't swear at me. No explanation needed.
Please try and be as concise as you can. I don't get paid any more money to answer a higher number of calls but I still don't need to hear all the unnecessary details that most people see fit to tell me. Keep it short and sweet if you can please.
Please accept your own mistakes and take responsibility for them. It's not my fault if you type your address incorrectly so please don't shout at me if your order is subsequently delivered to the wrong address.
Be realistic. Much as I might like to, I cannot change or alter the company's rules or policies. If you decide to cancel your order after the cooling-off period, please don't shout at me when I tell you that we cannot cancel your order. I don't make the rules and I don't have any discretion in bending them to any great degree. It stands to reason that I will assist as much as I can if you are nice. For some customers who are kind and polite I will go above and beyond what is required. For others who are rude and abusive I will not.
Please don't swear at me. No explanation needed.
Make sure you know what you are getting into when you place orders. Read the Terms and Conditions. Understand what you are signing up to. Find out what the cancellation period is. Know your rights. Write down your order number or reference number and keep it to hand when you call us. Save your emails giving you details of your order.
Recognise that some things are out of my control. Like the delivery of orders. Once an order has left the warehouse please understand that it is not my fault if the order is then lost by a courier, delivered to the wrong address or stolen en route. I will do everything I can to help you solve the problem but please try to acknowledge the difference between me and the company. I am always so grateful when customers say "I know it's not your fault, but..." because they clearly differentiate between me and the company.
Don't order online if you are in a hurry. Need something urgently because it's someone's birthday? Going away on business the next day? Then please make your purchase instore and physically take it home with you. Please don't rely on the Internet where credit checks can take time, delivery problems may occur, you might hate the item on sight and need to change it urgently, etc. Allow yourself some time. Please don't shout at me because your order has not arrived in time. Plan ahead - if you need something urgently buy well ahead of time. It's not my fault that you left your purchase to the last minute.
There, that is my gripe off my chest. Believe it or not, I am here to help you. It makes my day go so much better if I can solve your problems and assist you without taking any aggression and abuse. Just remember - if you frequently get cut off it could be because you are being horrible. I am in charge of the 'disconnect' button and I won't hesitate to use it. Be warned!
(Such an excellent gripe. Sadly, the author submitted this anonymously - The Weekly Gripe)
Leave a comment