48 comments Add a comment
It seems to be standard practice nowadays for motorists not to bother to indicate when changing lanes on a motorway, and not to indicate at a junction or at a roundabout. They are used so infrequently that one would almost suppose that cars are no longer made with indicator lights. Quite often, as a driver and as a pedestrian, I simply have wait until the car has moved on. 'Oh, I see, you're going that way are you?' I mutter to myself. Does anyone remember the section of the Highway Code about signals to other road users or is it assumed we're all telepathic?!
This dangerous practice seems to be compensated however by the over-use of the horn.
By the way, the Highway Code (rule 92) says "Use only while your vehicle is moving and you need to warn other road users of your presence. Never sound your horn aggressively." So why is the horn is now used as a communication tool to say 'hello there', 'I'm back' and 'bye-bye' at all hours of the day and night? And have you noticed the twin horn blowing which occurs these days? This is when a disgruntled driver beeps at another driver for doing something wrong. The second driver takes offence at this and (despite being in the wrong) beeps back even louder, as if to say 'up yours'.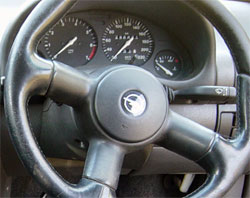 I work near a busy mini- roundabout and I hear this twin beeping all the time, mainly because many drivers don't seem to know who has right-of-way at a mini-roundabout and many people these days refuse to be told they are in the wrong.
I also thought it was now illegal to hold a mobile phone whilst driving and yet I see this regularly, especially at the above mentioned roundabout, including young mothers with children on the back seat, and yes, they don't indicate either. I think the reason for this appalling behaviour is because there are too many rude, ignorant, thoughtless, selfish people and I blame the media for that to a great extent, but that's another story. Driving whilst using a mobile phone is dangerous and plain stupid!
By: Toughcookie
Leave a comment