623 comments Add a comment
If you have been reading the news over the last couple of days, you can't have escaped the two stories about young children bitten by Rottweilers. In the most recent case the two-year-old boy suffered serious injuries, although he is expected to make a good recovery. The five-month-old girl who was mauled to death by two Rottweiler dogs at the weekend clearly wasn't so lucky.
I'm sure if you read up on this breed of dog they come out smelling of roses e.g. Temperament: Good natured, not nervous, aggressive or vicious; courageous, biddable, with natural guarding instincts source: The Kennel Club. Well tell that to the children that have been bitten by these dogs, or better still try and explain this to the parents.
Perhaps this description is suitable when the dog has been properly trained cared for correctly, but obviously there are exceptions and with that the possibility that someone may be injured. This to me is completely unacceptable and in any case, I can't actually imagine why anyone would choose a Rottweiler as a pet to begin with.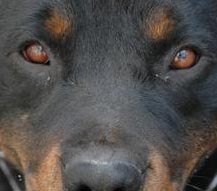 I also understand that some people keep them to guard property against would be intruders. Apparently they did at The Rocket pub where the five-month-old girl was bitten and later died.
This is exactly the same as keeping a loaded gun at home to shoot burglars in my opinion and I think most ordinary people are sensible enough not to do that! Instead we install an appropriate security system so that we can be safe in the knowledge that our property will be protected without risk of injury to others.
I personally think that the dangerous dogs act doesn't go far enough to protect the public and at the very least some kind of licensing system should be enforced. Perhaps potential owners of Rottweilers should have to take a compulsory training course before being allowed to keep the animal.
Leave a comment