53 comments Add a comment
I'm sick and tired of lazy dog owners and the way they allow their dogs to foul the footpaths in the town where I live. In the last few years they have rapidly transformed what was once quite a picturesque and bustling mining town into one great big dog toilet.
There's absolutely no excuse for this other than sheer laziness and a pig-headed "I'll let my dog crap where I feel like" attitude. These people obviously don't give a damn about the place where they live and I should imagine that their houses and gardens are equally disgusting. There again perhaps not, because they bring their animals around to foul the streets outside my house don't they?
The lazy dog owners and the fouled pavements really annoy me, but what annoys me even more is the fact that they seem to get away with doing it without any repercussions.
Fixed penalty - There are signs posted on practically every lamp post...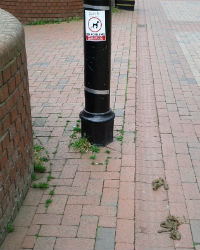 There are signs posted on practically every lamp post (and I mean every one) warning that there's a fixed penalty for dog fouling, yet they still do it and they still get away with it. Presumably no one ever (or rarely) gets a fine, because the amount of excrement on the pavements would certainly seem to indicate that this is the case. I feel so strongly about this now that I'll be contacting our council regarding this. In fact maybe some photographic evidence would add weight to the case and some of these blighters can be fined!
I must admit that I've not actually seen anyone in broad daylight letting their dog foul the pavement. Presumably they are ashamed to do this in public and quite rightly so. But my partner has on a couple of occasions recently witnessed a dog in the act of fouling with its owner patiently waiting whilst it does its business. There's nothing wrong with that because a dog must go. However, on each of these occasions the owner then carried on walking their dogs with absolutely no attempt made to pick up the mess.
As I said earlier, maybe some photographic evidence would result in a fine and then perhaps persuade these people to change their ways. No one wants to be a 'poop detective' photographing dog walkers, but something needs to be done because it's a smelly disgusting health hazard and it's turning the town into an eyesore.
By: Fed up with lazy dog owners
Leave a comment