261 comments Add a comment
Im fed up with dog owners who let their dogs off the lead in parks and public places particularly the kind of common areas where children and youngsters play. How can they possibly have any form of control over the dog just by shouting at it? Invariably the dog just ignores the owner and carries on being a nuisance to the public.
Not everyone in the world is a dog lover, and as it happens I'm one of these people who really does not get on with dogs. When you go to a park or whatever, you go there to enjoy the space and fresh air. I'm not keen on having someones mutt race up to me barking all the while, and then either jump on me or sniff my crotch. No I don't think hes cute and cuddly and Im not prepared to take your word for it that he wont go for me! Just get him under control and out of my face please! Why don't these people use those extendable leads, or better still take him somewhere else?
Another thing that bugs me about dogs on the loose in a park is the way they just go around urinating wherever they feel like. Its simply disgusting and really something Id rather not witness. Even worse is the scenario where they actually come up and wee on you or your property!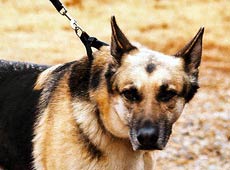 A few days ago I went up to the local park to spend some time flying my kite. I was in the process of packing up when one of those little terrier things came bounding across, cocked his leg urinated on the edge of my kite. How nice, I really wanted that to happen!
All the owner had to say about this was, "Sorry mate, he likes to chase them!" Less than impressed, I was sorely tempted to wrap the lines around little Scotty and re-launch my 16-foot traction kite. Lets see if the little blighter can take a piss from up there!
Anyway, common sense prevailed and I merely grumbled and cleaned up the mess with a bottle of water I had with me. To round off my day nicely, later that evening whilst relaxing at home, some cheeky mongrel decided to wander into the kitchen to have a sniff at the cat food! The 'owner' of course seemed to think that this was funny and my fault anyway for leaving the door open.
If I want to leave my door open I will and its not an invitation for your stupid dog to come in! So dog owners, please get your animals under control and get them on a lead when around other people.
Leave a comment