68 comments Add a comment
I travel on buses and trains daily for my work during the week and shopping or leisure weekends. I have done this for a fair number of years and have never seen anything close to what I witnessed yesterday.
I boarded the bus as normal and then two stops along the road a young lad tried to get on the bus with his puppy dog (staff/lab cross) apparently. He had come from another town by bus and wanted to make his return journey home but was refused entry by the bus driver. He told the driver he had travelled on three buses to get where he was and now wanted to go back home. If the other three other drivers had allowed him and the dog to travel, why couldn't he get on this bus?
The bus wasn't at all crowded, there were probably only about 12 people on it at most, but the driver shouted at the lad "Get off my bus". The lad continued to repeat himself and in the end the driver switched the engine off and we just sat there. The young man was probably about 16-17 year-old, but in all honesty didn't raise his voice or show any kind of aggression whatsoever. Meanwhile, the driver just ignored him and sat there.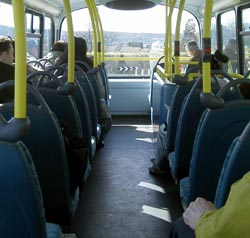 People on the bus were getting agitated by now and started to shout abuse at the driver and the lad. One man told the lad to get off or he would put him off, to which he replied, "Whats the problem, three other buses allowed me to travel?"
We were stationary for around 25 minutes until another bus on the same route pulled in. The young man got off our bus and onto the other bus; no problems with the dog at all and off he went. We still had to sit and wait for the police to arrive. Along with a fellow passenger, I went to the driver and asked if he could cancel the police so that we could be on our merry way and let the police deal with a more deserving case. Was this the right thing for the driver to do in the first place?
The dog certainly didn't look like a threat and I could have understood if the puppy had been an adult dog, but it was three months old for goodness sake! At the very least, bus companies should have a clear and consistent policy about dogs on buses.
By: Patricia
Leave a comment