29 comments Add a comment
Last night I travelled from Chatham in Kent to Walton-on-the-Naze in Essex, by train, with my big blond Irish wolfhound, Barnie, and a large trolley suitcase and a knapsack (my car broke down recently). What would have been been a 2 hour journey by car became a theoretical journey of 3.5 hours by train, but in reality took A LOT longer because:
a) I missed the train at Chatham that I was aiming for and so took a different train via a different route than planned (Chatham to Victoria then intending to take Underground to Liverpool Street to catch overland train to Clacton, instead of the planned Chatham to London St Pancras then Underground to Liverpool Street),
b) the train personnel on the train from Chatham advised me it was ok to go via Victoria and then the Underground for my intended destination, all the while seeing me with a big dog and much luggage, and, to cap it all,
c) a very stern and unsympathetic police woman at Victoria told me I was NOT allowed to take the dog to the Underground because "all dogs MUST be carried on the escalators" and there are NO lifts at Victoria!! My dog weighs 11 stone, so as for carrying him down the escalator... I think not!
London Underground - no dogs on escalators unless they are carried...
So I had to take a bus (unhelpful directions about where to find the correct bus stop from bus information booth), the bus driver would not accept my onward train ticket as permission to travel and I had insufficient money on me to buy the bus ticket, the bus driver advised me I HAD to go upstairs on the double decker bus with my dog. My luggage was too heavy to also carry up the narrow bus stairs so I had to leave it unattended downstairs on the bus. Then of course the road traffic meant I missed my connecting train at Liverpool Street, which wouldn't have happened if I had been allowed to go down to the Underground on the escalators asI have done in the past, mindful of the concern about making sure my dog's paws don't get trapped in the escalator.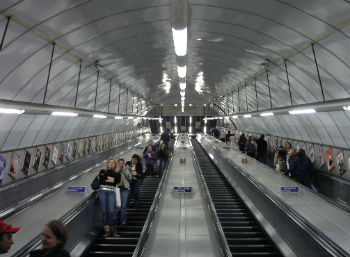 In the end my poor dog was so desperate for the toilet after so many hours that, on the train from London Liverpool Street to Clacton, he started pawing anxiously at the doors, attempting to jump onto the seats to get closer to the windows (he was looking for ways off the train) and rushing very strongly along the carriage, in his attempt to show me how badly he needed to go. I felt very sorry for him but there was nothing I could do, so he panted in bowel pain for the next 45 mins until I could walk him at the beach when we finally arrived.
I realise the policewoman was there to enforce the law and ensure the safety of the public, but why have a LAW that states no dogs on escalators unless they are carried? Surely that is more the realm of guidelines of behaviour, rather than absolute rulings? And, moreover, WHY NOT have a lift at Victoria to access the Underground? It's a major train station in London, and although dogs needing to travel is not a priority to add the expense of a lift, disabled people wishing to travel ARE and this should have been addressed a long time ago.
As I am more solution-oriented than a moaner, it would have been preferential if the policewoman had not been so much of a "jobsworth" and instead had found a member of the Underground personnel to assist me with my luggage down the stairs, and if there had been (maybe I should invent one?) a dog-mat to apply to several steps of the escalator to enable a dog to travel on the escalator without risk to paws getting trapped - clearly the mat would have to be able to be placed and picked up easily at either end of the escalator without risk of jamming the escalator, and strong enough to withstand the weight of various dogs without sinking into the grooves of the escalator stairs.
Does anyone have any similar experiences with large dogs on the Underground (in terms of accessing the Underground, rather than actually being in the carriage) and has anyone found some sensible compromises? Believe me, the return journey next week will be via London St Pancras as they have lifts there...
Leave a comment