157 comments Add a comment
I have a problem with a barking dog next door and it's making life hell. Why is it that some people just don't care about others and in particular they don't give a second thought to how their pets may affect their neighbours? Some of us just want a bit of peace and quiet and I don't think that it's too much to ask for.
I live in a fairly small town, on the edges of it really. In the winter, it is pretty much bliss for me. Quiet, peaceful, and very little noise. It is exactly what I want and the reason I moved here in the first place.
Barking dog problem, how do you deal with it?
Three of the neighbours immediately surrounding us have large dogs. One family has two of them. The guy with the two dogs has well trained animals and obviously cares that they don't annoy other people. If they are out in the garden, with a word, he can have them stop barking. The other two folk, as soon as the better weather comes around their dogs get shut outside in the garden. One of the guys has his dog shut outside all day while he is at work.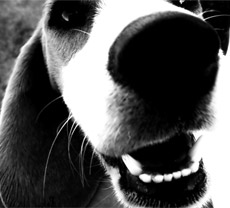 This dog just barks constantly, and I do mean CONSTANTLY! As he sometimes heads off to work at weekends, that means the barking can start as early as 6.45am. No long lie in on a Saturday morning for me then... No quiet Sunday afternoons either. If you're ill or have a headache, too bad; the barking just goes on and on and there's no let up.
He knows his dog barks all day because he has been told about it. He's too selfish to do anything about it though and that dog is just left out there to make my life a misery. I am actually getting quite depressed that I cannot have a lazy Sunday morning or sit outside and enjoy my garden. I have been denied these simple pleasures I'm almost longing for winter again, just so that I can have some peace and quiet!
I would say to any dog owners out there, for goodness sake if yours starts barking it's head off, please think about other people and DO something. Don't just leave your pet out there.
Leave a comment