37 comments Add a comment
I seem to remember not long after I moved here having a discussion with my neighbour in the garden. 'Vermin' he called them, referring to the neighbourhood cats and to be honest there's quite a few around here. Personally I don't mind this because I have cats myself and generally they're not a nuisance. Dogs or puppies on the other hand that bark incessantly are!
Having lived next door to people with dogs before I am very aware of how these animals can ruin what would otherwise be a quiet relaxing afternoon in the garden. When we first moved to this street the fact that there wasn't a dog next door was a serious plus point. Unfortunately that all changed within a couple of months when the son moved back in and brought the dog with him, and yes, it barks whenever it hears the slightest sound. Emptying the bin, opening a door or even just hanging out washing and the damn thing goes off like a fire alarm.
To make matters worse it used to escape through the fence and get into our garden and terrorise the cats. This happened on an almost daily basis at one point and I came downstairs one morning, opened the door and was confronted by the dog barking at me in my very own back yard. Whenever we mentioned the dog to next door the response was always something like "Oh he's alright, he won't hurt you", or "He's just being friendly..." This would then be followed up with some yelling at the dog to try and persuade it to come back through the fence into their garden.
just as bad as the dog barking is the neighbour cursing at the dog to get it to shut up...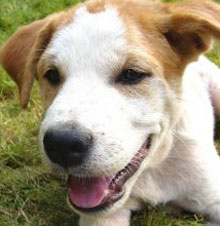 Eventually my neighbour sorted out the hole but their dog still barks all day long. This really isn't fun when you work from home and could do with some quiet to concentrate and earn a living. Actually, just as bad as the dog barking is the neighbour cursing at the dog to get it to shut up. Oh and then there's the number of balls thrown to the dog that end up over the fence and in our garden. I've lost count of the number I've tossed back over in recent weeks.
This dog isn't the main reason for this gripe though. It's been very annoying, but circumstances have changed recently and now there's a new puppy in the house as well. Now I know that puppy's tend to yelp and whine a bit, but this one seems to have picked up a few bad habits from the older dog and it goes at it all day as well. For the last two hours in fact that's all I've heard. I had thought that the puppy belonged to a member of the family that was visiting, however, it now seems to be a permanent feature. Does anyone have any ideas what you can do when the neighbour has a dog or puppy that barks all day long?
By: Fed up with barking next door
Leave a comment