539 comments Add a comment
It makes me sick when I hear how some people in this country can be so cruel to animals, particularly cats. All too frequently there are stories in the news of cruelty and horrible deaths and it has just got to be stopped.
Whilst on my routine journey home after work yesterday I switched on the radio as usual. The news came on and I could not believe what I was hearing, my guts completely turned and it brought tears to my eyes. Two youths in the town where I live, had thrown a young 7-month-old cat in front of a car and filmed the sick incident on their mobile phones.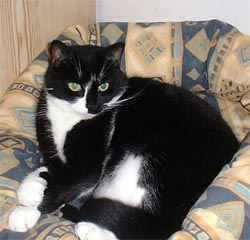 Unfortunately when they were confronted by the driver of the car they ran off (cowards!) and so will not be punished for being so cruel to a helpless little kitten.
Happy slapping seems to be the latest craze amongst youths. I can not get my head around how anyone can be so sick and wrong in the head to actually go and do something like that and worst of all capture it on video.
These mini-snuff movies involving cruelty to animals (that are apparently doing the rounds on a lot of mobile phones) are just completely sick and degrade the standards that humans are supposed to set.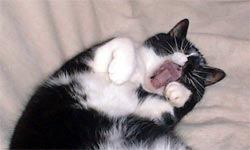 I mean it makes you wonder what sort of parents these sick individuals have. I thought we were meant to be a nation of animal lovers. They should catch these kids, severely punish them and then put them on a list so that they are never allowed to keep animals. In fact, if I had it my way they would never be capable of owning an animal because if I caught someone doing this kind of stuff their final moments would be very painful. I would be prepared to do time!

(PUBLISHER NOTE: The cat shown in these photos is not connected in any way to this incident or any of these stories, as far as I'm aware 'Mogsi' is still alive and well and living with my ex! He always did like posing for a photograph though.)
For people who love cats
If like myself you happen to love cats then the RSPCA is the place to report incidents of animal cruelty. There's also Cats Protection an organisation dedicated to the care of UK cats and Cat Chat, which is another cat rescue resource.
Leave a comment