46 comments Add a comment
We live in a lovely "no through" road with small free car park opposite which is great for dog walkers. By the way, we also have two dogs and we carry plastic bags to pick poop, so I'm not having a go at dog owners here. There's a dog bin right by the entrance to the car park, although it can get a bit smelly in the summer, when it "cooks"; it's far enough away from the houses to not be a nuisance!
Why then, when winter comes and the nights draw in, does one person allow their dog to poop right outside our house? We know it is one person because it's is always the same colour and we think that they live locally.
Sometimes it is so bad that it is scattered over 100 metres, which presumably means this poor animal is being dragged whilst whilst going (Anyone who has a dog will know that they do tend to stop and "strain" and that it is quite noticeable!)
We put a board up outside the house last winter asking people to pick up their mess and I even got some bags from the dog warden to hang from the gate post. Many of the other dog owners around were quite sympathetic to our plight, with one exception. This one person ignored all the signs and continued to allow his or her dog to go outside our house! Why can't they just pick it up?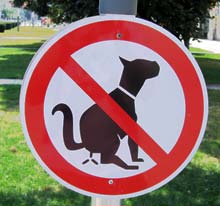 The dog warden is right there with us and has asked when we think it is happening. Of course we have no idea and I don't want to manually check how warm the Richard the third is to establish a "time of deposit".
By the way, the local Parish Mag published a letter from a neighbour about the situation and the next month some numpty said "If that's all you have to complain about then pick it up yourself!" Funny how nothing was mentioned when I wrote in to ask where they lived so I could transfer the poo to their house!!
We've talked about water-soluble luminous spray paint to highlight the problem.
We've talked about making tiny flags to stick into the mess.
We've talked about chalking BIG CIRCLES around the them.

I am now opening up the floor for your suggestions! (rubbing my hands together as I know this will no doubt be fun!)
By: Pugs
Leave a comment