15 comments Add a comment
On rare occasions that we leave the house at the moment my partner and I have taken to going across to a nearby park and taking a walk around the outskirts and then back home again. The park is also used by dog walkers and that's what this gripe is about.
The council have placed clearly visible signs around the park instructing people to keep their dogs under control at all times. However, either some people can't read, or they think that this rule doesn't apply to them. On one of the rare sunny days recently we decided to stop half way and sit on a bench for a while. After a short while a dog walker came along and of course their dog wasn't on a lead. Instead it was running around and taking a crap wherever it wanted. At least the owner cleaned up, so many of them don't.
Respect other peoples enjoyment of the park by not allowing your dog to become a nuisance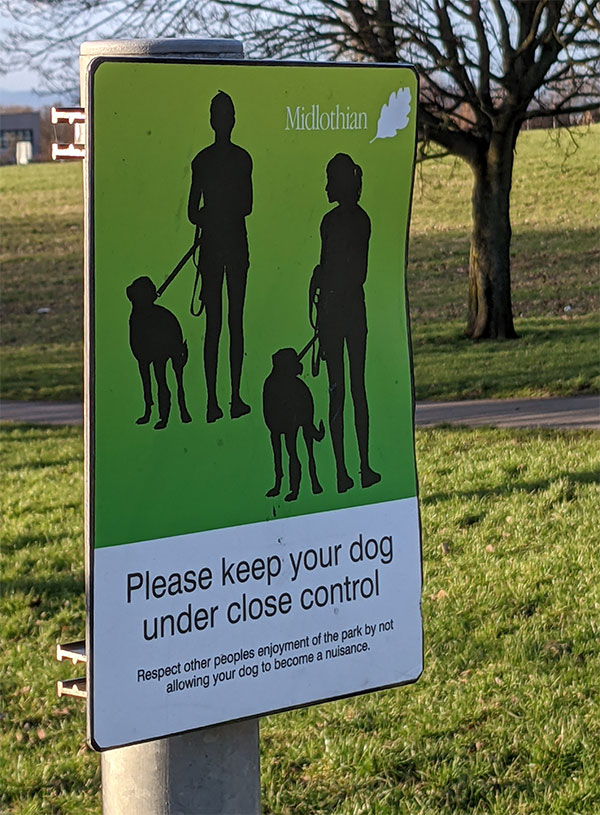 The dog then decided to run across to where we were sitting and jumped up with its paws landing on me. Luckily it was dry and the paws weren't muddy. This has happened to me before in the past and I've had clean clothes soiled. Anyway, the owner retrieved the dog in this case and didn't seem to think anything was wrong. It's perfectly natural to let your dog run around and jump up at complete strangers.
I don't think this is actually okay and if you're taking your dog for a walk in a public place it SHOULD be kept under control at all times, ideally on a lead (as in the picture).
Whilst we're on the subject of dogs out of control. My partner came across the following on social media:
"Just to make people aware that my son's dog was attacked in Easthouses park a short time ago. He was walking on leash when a light coloured Staffy type dog who was off leash came running up and attacked. My daughter in law was screaming at the owner to get his dog and had to kick at it. When the owner came over he apologised and said his dog was in heat and that would be the reason he went for Pip. For goodness sake when will people learn to control their dogs? The owner left in a car. Vet treatment was required for Pip and this is the second time this has happened to him."
As you see there can also be issues with other dogs. Also, not everyone loves dogs, in fact some people fear them or may have been traumatised by some incident involving a dog in the past.
Stop being so selfish and stick to the rules!
By: Kenny
Leave a comment