16 comments Add a comment
My gripe is broken glass and how dangerous this debris can be for dogs. My son's dog "Dandy", a spaniel has cut her paws several times now on broken glass in the streets near where we live.
Everywhere I walk with or without Dandy there is broken glass on pavement, parks and in the streets. Why are people so irresponsible as to leave glass bottles around so that they get broken? Dont they know how potentially harmful it is to kids and pets?
It's not just the fact that broken glass is a danger to dogs and the inevitable cuts on paws, it's also the thought that a child might end up falling on this glass and and cutting themselves badly. In large enough quantities broken glass can do a lot of damage and there's certainly enough of it out there.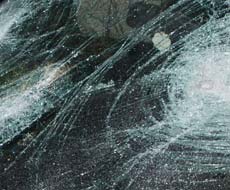 I live opposite a cricket field were there are seats and young people use them to get drunk, especially at weekends. Further down is the football field and at the very end are swings for the kids but the same happens there. At the end of the weekend theres always more broken glass.
The bin men recently got a pay rise, presumably because the men who brush the streets and parks etc. were on strike, but I haven't seen them about lately. So I go out and pick up the broken glass myself so that the dog can be walked safely. I carry a plastic bag, brush and shovel every time I go out because there's so much of it out there.
By: Dandygirl
Leave a comment