3 comments Add a comment
Theft sickens me. People who take your things these days get away with it because there's nothing the police can do about it. This isn't about the police as I know they did a good job and tried, but my property remains stolen.
I lived, for a year in a shared house. As one can expect things became fraught after a while but it is always the selfish people who blame others.
Mornings are always difficult when a group of people have to get ready for work. One such, who shall remain nameless would lie in until very late and then take a good half an hour in the shower despite other people waiting for them to get out. Getting in before them would result in their running the cold tap, banging on the door or otherwise behaving threateningly or abusively.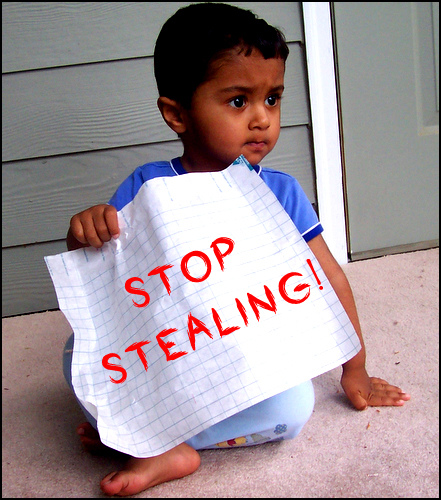 These people don't care about other people, and I am sick of this I am more important than you attitude. They're the ones who are at fault no matter how much they try to pretend the problem is someone else's.
This same person proceeded to steal everything from the kitchen, plates, crockery, cutlery and hide it in their room. Of course, the landlord tried to intervene but what could he do? Also, and while I liked the chap the fact is he wants to pay the mortgage and not deal with disputes brought on by theft.
Now, later on this person steals a cooking pot from me. It's a minor item, but it is my property. I asked him if he had seen it and he said "probably in the same place my things are." Note, no denial. So that's in your room, then, I thought.
Now, I would never, ever steal from another. The concept is abhorrent. If I break things I offer to replace them. That's honest and right. I respect other people. In short I try to do the right thing. This person doesn't care about anyone apart from themselves - a concept that seems endemic these days.
Anyway, I informed the police, they investigated and I am very grateful for Hampshire police to do so considering the knife, gun and other violent crime we have here - but obviously he has given it to his mother or otherwise hidden it.
So, this person has stolen from me, they are a thief and always will be. I can't prove it, despite the fact there was no one else in the property at the time. I don't know what to do about the loss. I should just forget it but I feel frustrated and angry that people should be allowed to get away with stealing other people's property.
And yes, this person smokes. I know smokers don't care about anyone else, but now they are a criminal as well. In short, I'm sick of being a decent person in a thoroughly disgusting world.
By:Nick
Leave a comment