27 comments Add a comment
Buying a house and moving, it's been said before that this must be one of the most painful experiences in life. I think it's actually made more stressful because of the all the legal hurdles and the way in which it all happens. The English version (the Scottish one is much better) requires your solicitor to do lots of work with searches and checking previous authorisations, ensuring proper title etc. This is all fine and of course, quite understandable. You need to know exactly what you are buying and the mortgage company or lender needs to know that the property is a sound investment.
However, when did the completion date (the date you actually move) become largely set in stone well before contracts have been exchanged? The, more sensible, approach used to be that the solicitors did all the work, drew up the contracts and then agreed the completion date with all parties at the same time as exchange of contracts.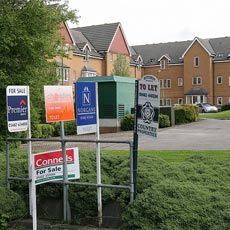 Now you often have to commit yourself to paying for a removal company, redirection of post, changes to utilities etc. even before you have any contract exchanged whatsoever. This strikes me as a little bit daft... Apparently, it's become quite normal for the exchange of contracts to occur just a few days, or even hours, before the move, leading to massive amount of anxiety for all concerned.
a minimum period between exchange and completion
Solicitors shouldn't go along with these practises, even if put under pressure by clients who 'bully' them. Even better, the Law Society should insist on a minimum period between exchange and completion (unless all parties agree a lesser period). Perhaps then the process of moving home would be less painful.
Most house buyers get too involved in the initial excitement of finding their next property to fully consider, at the outset, that they will need some time to finalise everything - AFTER contracts have been exchanged.
By: Robert
Leave a comment