42 comments Add a comment
Does anyone know how to be queue anymore? I only ask because I am seeing more and more of a decline in people knowing how to do this boring yet polite gesture. I do not like to queue up personally, but I do it because I have to to maintain some sort of social grace.
There have been countless occasions when I have been the first to stand at a bus stop. After waiting 20 minutes or so, the bus will arrive and lo and behold, about 5 people with barge in front of me to get on the bus without any thought of queuing as they should do.
After pushing everyone out of the way, elderly persons included
On another occasion, I was about to board a train. Usually I am considerate enough to let the elderly on first, but this horrible scrotey woman with her 6 kids just took their place right in front of the train doors (after pushing everyone out of the way, elderly persons included) and stormed on the train!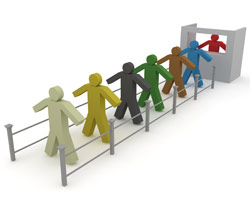 Had she asked politely if she could get on first due to the fact she was carrying a pushchair, a number of bags and a number of insolent kids, I may (and I repeat, MAY) have allowed her to queue jump and get on before me. But she didn't even utter an 'excuse me' and just pushed past to get on anyway!
This has happened too many times now and it has become a pet hate of mine. Usually things like this do not bother me, but as I see this on a daily occurrence (in shops, post offices, supermarkets, taxi ranks, music venues etc.) it makes my blood boil.
By: How to be Polite
Leave a comment